Live at The Linda Live! The Sea The Sea & Diana Jones – Sun Oct 29th, 2023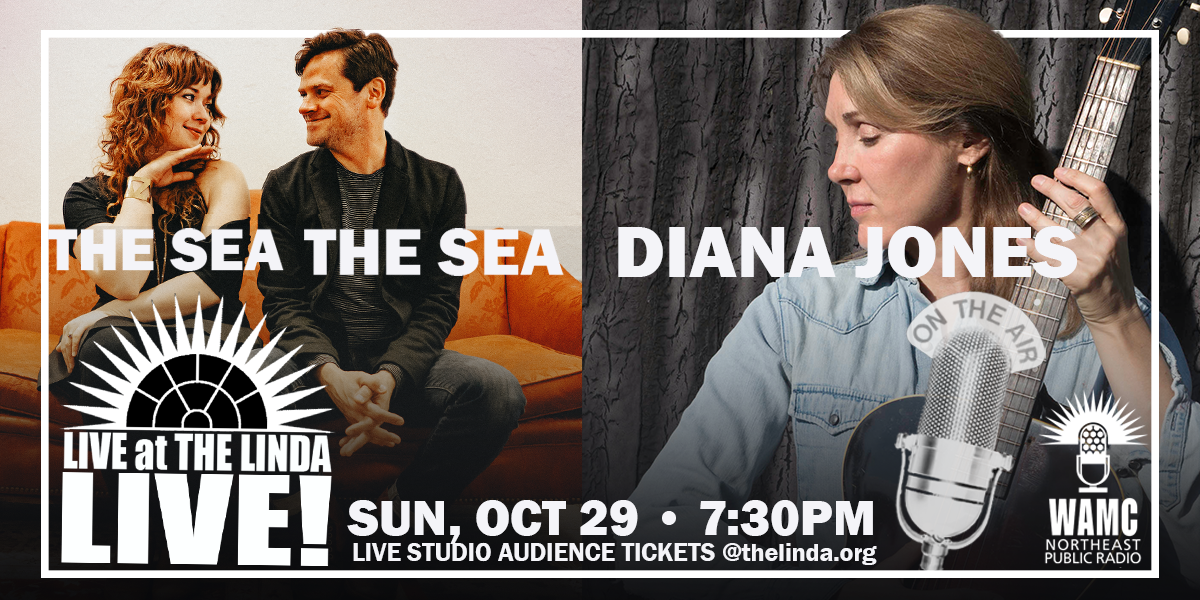 Time: 7:30pm-
Location: 339 Central Avenue Albany, NY 12206 (map)
WAMC's LIVE AT THE LINDA LIVE hosted by Peter Hughes broadcasts live on WAMC – Northeast Public Radio from our performing arts studio – "The Linda." You can be in the live studio audience for the outstanding show we're calling "October Feels with special guests The Sea The Sea and Diana Jones.
The Sea The Sea, Chuck E. Costa and Mira Costa, is an Upstate New York based indie folk-pop duo featuring what Bob Boilen (NPR's All Songs Considered) calls "excellent harmonies" & Huffington Post calls, "Two of the loveliest male-female voices you might ever hear this or any other year."
Diana Jones
"Songs come in a flurry of inspiration. I don't understand it but I'm grateful." Award-winning American singer-songwriter Diana Jones has been called the "Emily Dickinson of song" and "the female Johnny Cash" in reviews and rightfully so. But a journey of adoption and reunion as mysterious as her songwriting led to the gritty, authentic, Americana storytelling that has become her life's work and the essence of her live show.
Adopted as an infant and raised in Long Island, NY, the fact that Jones couldn't get enough of her brother's Johnny Cash records finally made sense when she found her birth family and musical roots in the Smoky Mountains of Eastern Tennessee. "Live At Folsom Prison blew my mind," Jones recalls. "Whenever I heard anyone country…. like Johnny Cash or Dolly Parton, I wanted more but I just didn't know where to find it." Diana's maternal grandfather, who had formed his first teenage band with a young Chet Atkins, was happy to pass on the culture and music that he loved to his granddaughter. Gradually Jones discovered an uncanny affinity for the Appalachian music of her ancestors and began claiming it as her own as she discovered her true artistic calling.