An Evening with Grace Potter (solo) – Thu Aug 13th, 2020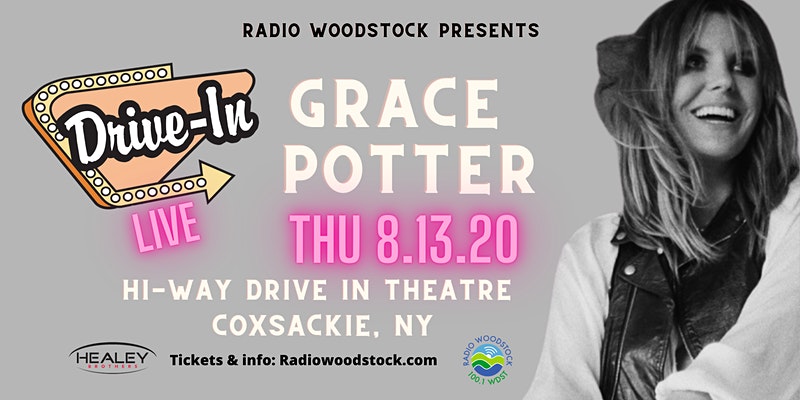 Time: 6:30pm-
Location: 10699 State Route 9W Coxsackie, NY 12051 (map)
About this Event
***TICKETS ARE SOLD PER VEHICLE, NOT PER PERSON (with up to 4 occupants per vehicle)***
Radio Woodstock presents….
An Evening with Grace Potter (solo) on Thursday, August 13 2020 at the Hi-Way Drive In Theatre in Coxsackie, NY.
The concert marks the first live music experience in the Hudson Valley since COVID-19 shut down concerts in mid-March. The live concert performance will also be broadcast on drive-in's big screen with sound experience via the drive-in's FM signal.
VIP (reserved) and General Admission tickets will be available for purchase beginning on Wednesday July 29 for Radio Woodstock Supporters at 10 am. All tickets will then be available to the General Public on Friday July 31 at 10 am
Ticket prices per vehicle: General Admission vehicle $180 (up to 4 people per vehicle) and Reserved VIP Front/Second Row Vehicle $280 (up to 4 people per vehicle).
Gates will open at 6:30pm for socially distanced tailgating, music will begin at 9pm.
Hi-Way Drive-In Theater: 10699 State Route 9W (Coxsakie, NY).
All COVID-19 safety measures/guidelines will be ensured.
For ticket information and more concert/music details, visit www.radiowoodstock.com
About Grace Potter:
Described by Spin as "one of the greatest living voices in rock today," Grace Potter has not only played every major music festival from Coachella and Lollapalooza to Bonnaroo and Rock in Rio, she's created her own thriving music festival, Burlington's Grand Point North.
Additionally, she's shared a stage with artists such as The Rolling Stones, Willie Nelson, Robert Plant, the Allman Brothers, Neil Young, Jackson Browne, Mavis Staples, and The Roots to name just a few. Potter has also collaborated with the Flaming Lips for a Tim Burton film, written and produced music for film and TV and recorded two GRAMMY-nominated, multiplatinum singles with her friend Kenny Chesney.
In October 2019, Grace released Daylight, her second solo LP and first for Fantasy Records. Daylight arrives after a turbulent, life-altering 4-year hiatus from music that had the acclaimed singer-songwriter contemplating whether she would ever record another album. Cathartic and emotionally raw, Daylight is the result of that arduous journey, the most emotionally revealing, musically daring work of her career.
"I've always aimed to write songs from a universal perspective; so that anyone who heard my music could relate, but that actually made it harder for me to take ownership of my own perspective. These songs were written so I could process–and be accountable for–my own life experience," Potter says. "I had just pulled the ripcord on my whole life. It was an incredibly jarring, private experience. When the dust settled a bit, the last thing I wanted to do was tell the whole world about it through song. It was a very gradual process of re-framing music and its purpose in my life. So, when I finally started writing songs again-it had to be for myself and myself alone. "Produced by her
husband Eric Valentine, Daylight took shape in the Topanga Canyon home they'd recently settled into. Unsigned and entirely free of any pressure to appease, Potter slowly carved out ideas and the two began laying down tracks. Moving to Valentine's Hollywood studio, Barefoot Recording, the songs came to life with the help of longtime Potter collaborators including guitarist Benny Yurco and drummer Matt Musty, friends Benmont Tench and Larry Goldings on keys and supreme vocalists, Jess Wolfe and Holly Laessig of the indie band Lucius
Event FAQ
Please carefully read through the FAQ and check back in the coming weeks as new information may be added.
Will Grace Potter be performing in-person?
Yes! Grace Potter will be performing live in-person (solo) at the Hi-Way Drive In Theatre. The show will also be broadcast on the drive in theater movie screens through the FM radio signal.
How many tickets should I buy? How many people can I bring in my car?
1 ticket is required per car and permits entry for up to 4 total people per car. Please do not show up with more than 4 people in your car as you will not be allowed into the venue.
What kind of vehicle should I bring?
Personal two axle vehicles that fit into a standard parking space are allowed. No oversized vehicles or vehicles that obstruct views will be allowed into the venue (i.e. campers, RVs, buses, lifted trucks, etc). Larger trucks, SUVs and Sprinters may be directed to the back of the lot so as to not block the sight lines of other concert-goers.
Are motorcycles permitted?
Motorcycles are welcome, however, they are considered 1 vehicle. Tickets are sold by the vehicle. Due to social distancing, 1 motorcycle per parking area is permitted.
Can I leave the hatchback of my wagon/SUV open?
Hatchbacks may be open but must be kept no higher than the top of the vehicle to prevent blocking the view of those behind you.
How much are tickets? What sort of view will I have?
Ticket prices per vehicle:
Reserved Front Row and Second Row and Third Row Vehicle $280 (up to 4 people per vehicle) – Cars will be parked on a first come, first served basis.
General Admission vehicle $180 (up to 4 people per vehicle) Cars will be parked on a first come, first served basis and you will not be able to choose your spot.
Depending on where you are parked, you may not have good sight lines to the stage, however, you will see the performance on the big movie theater screens.
Will tickets be available at the door?
No. We encourage you to purchase your tickets in advance.
What is the ticket transfer and refund policy?
Tickets are non-refundable. Tickets are either mobile tickets or PDF Print-at-home and will be delivered to the purchaser's email. To transfer a ticket, simply send the PDF file to the new recipient. The PDF ticket / barcode you receive is all that is required for entry, so please store it in a safe place. If you have any questions about your tickets or issues with your order, please contact assa@radiowoodstock.com
Will I be able to sit outside of my car?
You will be allowed to sit directly in front of your car but must stay within the space allotted for your vehicle. You will also be allowed to sit in truck beds. No spreading out. Social distancing practices are expected to be observed.
Can I leave my engine on during the concert? How about my headlights?
No, you will be asked to turn off your headlights once parked and required to turn off your engine just before show time.
How will I hear the concert?
The concert will be broadcast through a low-frequency FM radio transmitter. The FM station will be posted on the venue's big screen prior to the show. Please make sure to arrive with a working FM radio in your vehicle or you will not be able to listen to the event.
My car stereo is broken. Can I bring a boombox or portable stereo?
Yes. Portable boomboxes and stereos are permissible for vehicles without a functional car stereo. Please be respectful of the volume and those around you.
Is the concert all ages?
Yes.
Are pets allowed?
Service animals only, please.
How early can I arrive? What time does the show start?
Gates 6:30pm – Showtime: 9:00pm. Please plan to be parked in your space by 8:15pm.
What health precautions will the venue staff be taking? Will I be required to wear a mask?
Please refer to our COVID Guidelines. Masks are required when leaving your designated parking spot.
Will there be restrooms and concessions available?
Yes. Venue restrooms will be available. Concession stands are open. Lines for both will have clear markers to maintain proper distancing. Masks are required upon leaving your vehicle to use the restroom or purchase concessions.
Can I bring my own food and drink?
The Drive in has good selection of food that is reasonably priced and we hope you can support them. However, small amounts of outside food and beverages are allowed.
How do I get to the venue?
Driving Directions Here.
Can I leave early?
You will be permitted to leave early but please be respectful and cognizant of other fans and their concert experience. There is no re-entry.
Is this a rain or shine event?
Yes
I am unable to attend. Will the concert be livestreamed?
There are no current plans to livestream the show.
Please note: no filming or recording of the show will be allowed, including by drone. No drones will be allowed in the venue and will be confiscated.
COVID LIABILITY
Hi-Way Drive in Theatre has taken enhanced health and safety measures—for you, drivers, crew, vendors, employees and other guests. An inherent risk of exposure to COVID-19 exists in any public place where people are present, including the Hi-Way Drive In Theatre and the event for which you are purchasing admission. COVID-19 is an extremely contagious disease that can lead to severe illness and death. People who show no symptoms may spread COVID-19 if they are infected and therefore any event where people are present may pose heightened risk of contracting COVID-19. If you are considered a high-risk person as defined by the Centers for Disease Control and Prevention (CDC), you may be especially vulnerable to COVID-19. You should evaluate your own risk in determining whether to attend any public event including the event at the Hi-Way Drive In Theatre for which you are purchasing admission. As a condition of admission to this event at the Hi-Way Drive In Theatre you will be required to abide by all current facility rules, posted instructions, and protocols while on premises or risk ejection, including, but not limited to the following, which may be periodically revised in accordance with public health guidance or requirements, or other guidance or requirements: Guests are required to wear a cloth face covering when leaving their designated parking spot (all guests who are 3 years or older). Guests must maintain a distance of at least 6 feet between their travel party and others. Guests are reminded to wash their hands frequently with soap and water. For guests who may need an accommodation in order to comply with any facility rules and/or protocols, please contact our guest services team for further information.
In addition, to further protect the health and safety of our guests and employees, you must stay home if within past fourteen (14) days you have:
o Tested positive or have been deemed presumptively positive with COVID-19;
o Sought testing to determine whether you might have COVID-19 due to contact with someone who tested positive for COVID-19, and have not yet received the results; or been informed that you may have been exposed to Coronavirus or learned that you have been in the immediate vicinity of a person now known to have been carrying the Coronavirus; or experienced any of the following symptoms commonly associated with COVID-19, including cough, shortness of breath or difficulty breathing, OR two or more of any of the following: fever, chills, repeated shaking with chills, muscle pain, headache, sore throat, new loss of taste or smell.
By purchasing tickets to and/or attending this event "An Evening with Grace Potter at the Hi-Way Drive In Theatre" you acknowledge that you are healthy and do not have the attributes stated above, and that you understand and agree to assume the risks posed by this event.