Fresh Grass – Sat Sep 25th, 2021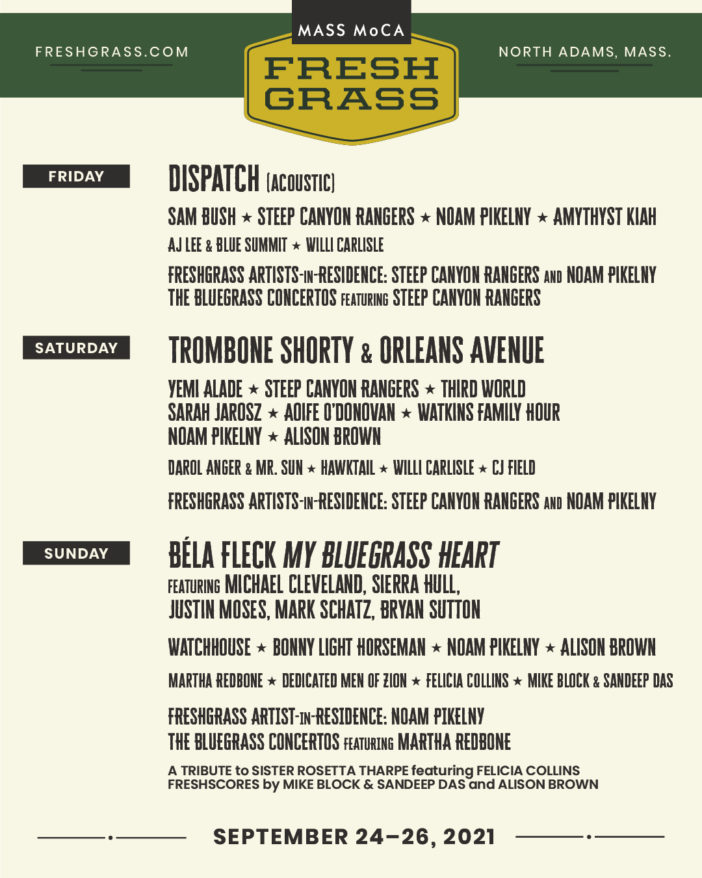 Time: -
Location: 1040 MASS MoCA WAY North Adams, MA 01247 (map)
More about FreshGrass North Adams
Music starts early in the museum courtyards, moves to our spacious (and grassy!) urban concert meadow, and then continues until past your bedtime with wild and woolly late-night barn dances in the Hunter Center on Friday and Saturday nights. Concerts held rain or shine. The lineup is jam-packed with guitar gods and banjo gurus, traditionalists, and trailblazers — artists you already know and love interspersed with FreshGrass discoveries. Taken together, it's an expansive group of performers who both draw on the past and look to the future. We like to think of it as "great music uprooted."
The FreshGrass Award celebrates new talent, with cash prizes to the contest winners. Finalists in the band, banjo, fiddle, and the No Depression singer-songwriter categories perform for a panel of industry professionals on Saturday and Sunday of the festival, with winners announced on Sunday afternoon. Open to all festival-goers, the contest showcases the future of bluegrass and roots music when the bands play original and traditional tunes. With prizes totaling $25,000, grand prize winners receive a performance spot at next year's festival, recording sessions at Compass Records, and handcrafted instruments from festival sponsors.
FreshGround is a tent-camping field within easy walking distance (.7 miles; 12 minutes) of the festival, convenient to downtown merchants, bars, and restaurants. A shuttle bus runs continuously to the festival from the campsite. Camping is on sale now.
Stay tuned to freshgrass.com for the latest news—the music never stops at FreshGrass!
Follow FreshGrass on Facebook for updates and more.