Gore Mountain and Centerplate Job Fair – Sat Oct 23rd, 2021
Time: 9:00am-12:00pm
Location: 793 Peaceful Valley Rd, North Creek, NY 12853 (map)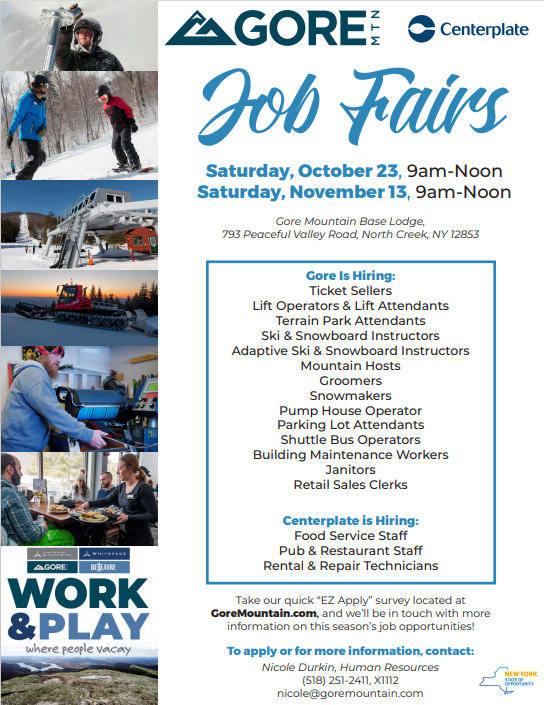 Gore Mountain invites you to join their team, offering full and part-time positions in several departments. They're always on the lookout for exceptional employees who enjoy working in a fast-paced and fun environment! Perks include ORDA facility access, reciprocal privileges at other ski areas, training, employee discounts, (and you get paid too!). Join them for this event to inquire about the best job you'll ever have!
They Are Hiring:
Ticket Sellers
Lift Operators & Lift Attendants
Terrain Park Attendants
Ski & Snowboard Instructors (Instructor Hiring Clinic – November 27-28)
Adaptive Ski & Snowboard Instructors
Retail Sales Clerks
Mountain Hosts
Groomers
Snowmakers (Snowmaking Job Fair – October 1)
Pump House Operator
Parking Lot Attendants
Shuttle Bus Operators
Building Maintenance Workers
Janitors
Food Service Staff
Pub & Restaurant Staff
Rental & Repair Technicians
Apply now or request more information from:
Nicole Durkin, Human Resources
(518) 251-2411, Ex.1112
Or complete our quick "EZ Apply" survey HERE, and they'll be in touch with more information on this season's job opportunities!