Nathaniel Rateliff & The Night Sweats w/s/g The Marcus King Band – Sat Jul 31st, 2021
Time: 4:30pm-
Location: 181 Galli Curci Road Highmount, NY 12441 (map)
Nathaniel Rateliff & The Nights Sweats with special guest The Marcus King Band on Saturday, July 31st 2021
About this event
FAQ:
Please Note: This event will be presented in accordance with applicable public health requirements as of the date of the event; which could include changes to capacity, attendance prerequisites, procedures, and other protective measures.
CDC guidelines (subject to change)
• Unvaccinated individuals: Require 6 feet of social distancing and wear masks
• Vaccinated individuals: No social distancing or masks required in "fully vaccinated section. Mask and social distancing will still be required in common areas.
What's included in a VIP ticket?
ViP Parking (closets lot to the entrance gate)
Exclusive VIP Entry
Access to the VIP Viewing area in front of the Stage
Exclusive VIP Lounge in covered tent.
Exclusive VIP restrooms
Exclusive Cash Bar in the Vip lounge
What do I need to be considered "fully vaccinated" ?
Fully Vaccinated is defined as having received a final vaccination dose at least 14 days prior to the concert date (i.e., second dose of Pfizer/Moderna or single dose of Johnson & Johnson).
What are the health requirements in a fully vaccinated section?
Guests Age 12+
Must have received their final vaccination dose at least 14 days prior to game date (i.e., second dose of Pfizer/Moderna or single dose of Johnson & Johnson).
A CDC-issued COVID-19 vaccination card showing fully-vaccinated status must be presented at time of entry.
An appropriate ID matching the name on the COVID-19 vaccination documentation.
Guests Age 12 and younger
Children 12 years of age and younger may accompany their fully vaccinated parent or guardian in a Vaccinated Section, without proof of a negative COVID-19 test.
What are acceptable forms of proof of a vaccination?
The following are acceptable as proof of full vaccination along with an appropriate ID matching the name on the COVID-19 vaccination documentation (if 12 years or older):
Vaccination card (which includes name of person vaccinated, type of vaccine provided and date last dose administered)
A photo of a vaccination card as a separate document
A photo of the attendee's vaccine card stored on a phone or electronic device
Documentation of vaccination from a healthcare provider electronic health record or state Immunization Information System record.
*Self-reported vaccination records that are not verified by a health care provider cannot be accepted.
Do I still need to wear a face covering when in the "fully vaccinated" section?
No, face coverings are not required while in Vaccinated Sections. You must wear face coverings outside of Vaccinated Sections, except while actively eating and/or drinking in their areas.
Do I still need to follow social distancing guidelines when not in the "fully vaccinated" seating section?
Yes. restrooms, concessions and merchandise outlets located adjacent to a vaccinated seating section will still operate under social distancing protocols.
Can I purchase a pod in the unvaccinated section if I am fully vaccinated?
No. Pods are only for "unvaccinated people" and are subject to disappear as the CDC regulations are ever changing.
There is a potential that these Pods will be eliminated if NYS no longer requires them.
Is this event for all ages?
This event is All Ages.
Parking?
On-site parking is FREE
Limited parking for vehicles with ADA placards or license plates is available. Please identify yourself to a parking attendant when you arrive.
What are the hours?
Doors : 4:30 pm
Music: 7 pm
End: Approximately 10:30 pm
What can I bring?
Bags smaller than 16"x16"x8" will be permitted inside the venue
Low-backed chairs (under 30″) to ensure good viewing for your neighbors. These are only allowed outside no chair zones. Blankets? Of course
Strollers that are reasonably sized and do not obstruct the view of others
In the event of rain, handheld umbrellas are allowed in the venue and in seating areas but must be closed and stored during sets so as not to obstruct the views of others.
Non-professional cameras are permitted but cannot be used to reproduce the event and must not interfere with other fans' enjoyment of the concert. (No audio or video recording)
What should I leave at home?
Bags larger than 16"x16"x8" will NOT be permitted inside the venue.
Coolers, outside food, beverages, glass containers of any kind, alcoholic beverages, illegal substances of any kind, firearms, noise-making devices, laser pointers, knives, box cutters, tools of any kind (including hammers, knives, screwdrivers, etc.), pepper spray, mace, or any kind of item that could be used as a weapon.
Professional audio visual equipment
Beach umbrellas or beach balls
Pop up tents
Pets (sorry, we love dogs and cats but cannot allow them into the concert field)
Drones
Am I allowed to leave the concert and re-enter?
To ensure our fans' safety and efficiency of our entry operation, we are not able to allow re-entry. That means that you may only enter the event once and will not be able to leave. Sorry, but you can't go to your car. Please bring everything you'll need with you when you arrive!
What happens if it rains?
This is a rain-or-shine event! Please check the weather and be prepared for inclement weather. In the case of severe weather, please check this website as well as our Facebook, Instagram, and Twitter pages for updated information!
Can I leave my car overnight?
NO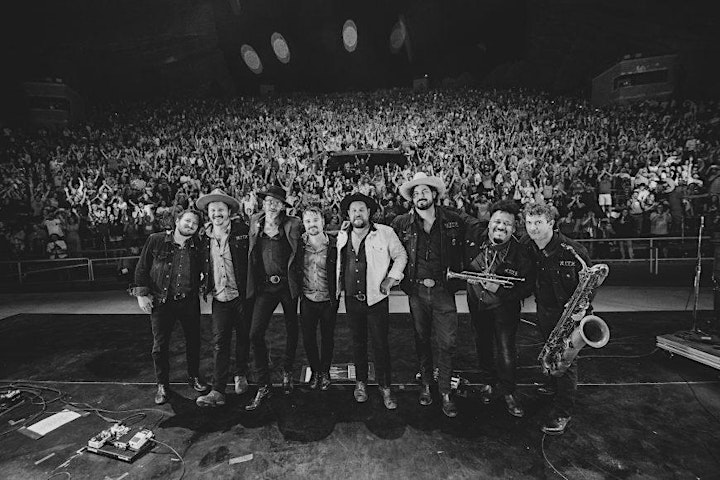 About Nathaniel Rateliff & The Night Sweats:
Growing up in rural Missouri, Nathaniel Rateliff got his early music education from his family, who performed in the church band in which Nathaniel played drums. At 19, Rateliff moved to Denver where he worked night shifts at a bottle factory and a trucking company while testing out songs at open-mic nights. Rateliff's 2010 solo album, In Memory of Loss, propelled him to the forefront of Denver's tight-knit folk scene, with The New York Times dubbing him "a local folk pop hero" and launched his career as a touring musician. His debut as well as subsequent solo albums continued to receive critical acclaim while Rateliff continued to explore his sound. A set of rough demos recorded in 2013 pointed Rateliff in a new direction, and somewhere between Sam & Dave and The Band, Nathaniel Rateliff & The Night Sweats was born. The band's self-titled debut album was a breakout success—now certified Gold in the U.S., it has sold over a million records worldwide. Their sophomore album Tearing at the Seams debuted in March 2018 to widespread critical acclaim as well. Last year, Rateliff released his first solo album in seven years via Stax Records. And It's Still Alright peaked at #3 on iTunes' "Top Albums" chart, debuted at #1 on Billboard's "Americana/Folk" chart, landed at #2 on their "Current Rock" chart and resided at #1 on the Americana Albums Chart for eight consecutive weeks. Rateliff has appeared on every late night television program and recently made his debut on "Saturday Night Live" performing his latest single "Redemption," which was written for and featured in the Apple Original film, Palmer, starring Justin Timberlake. Rateliff has toured extensively worldwide, playing major festivals and selling out iconic venues including their hometown Red Rocks Amphitheater multiple times. In 2018, Rateliff also launched a Denver-based foundation called The Marigold Project to support community and nonprofit organizations working on issues of economic and social justice.