Now
Prev
Midnight Legend (ft. Mykki Blanco)
Special Interest

SONG HISTORY
Rochmon Record Club Listening Party David Bowie – "The Rise and Fall of Ziggy Stardust and the Spiders from Mars" – Thu Sep 21st, 2023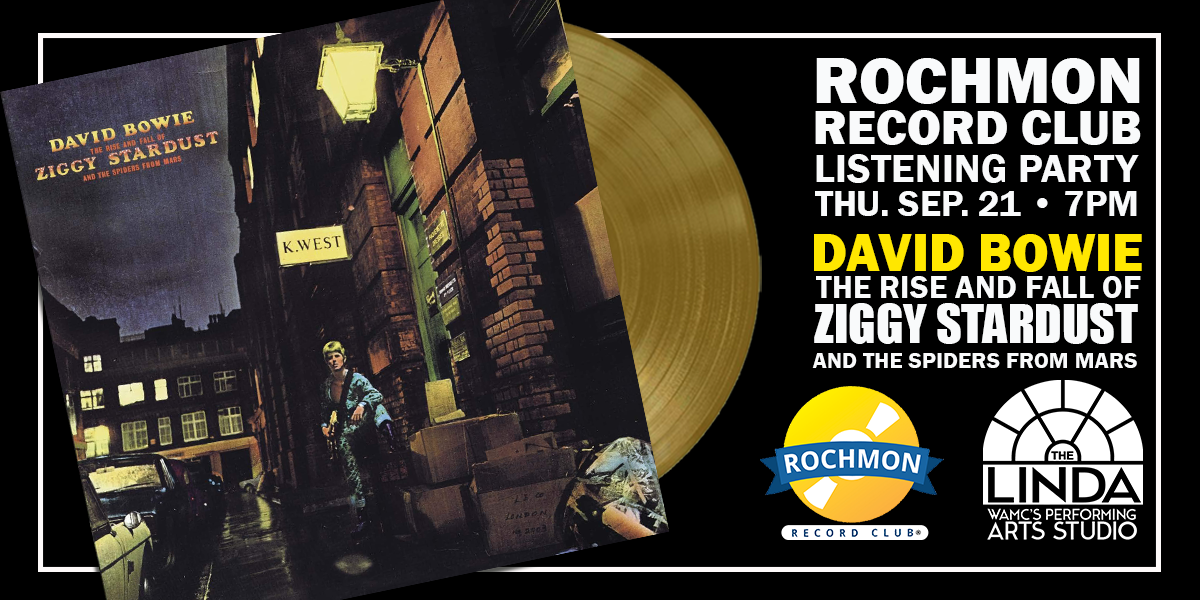 Time: 7:00pm-
Location: 339 Central Avenue Albany, NY 12206 (map)
On Thursday September 21 Rochmon Record Club will converge at The Linda, WAMC's Performing Arts Studio, 339 Central Ave., Albany, to listen to, and learn about David Bowie's epic Glam Rock classic – "The Rise and Fall of Ziggy Stardust and the Spiders from Mars". Tickets available at thelinda.org
In 1971 songs and ideas were flying out of Bowie faster than he could record them. Prior to finalizing recording of "Hunky Dory", Bowie, and his newly christened band, started work on David's 5th album "The Rise and Fall of Ziggy Stardust and the Spiders from Mars". Bowie and The Spiders from Mars; guitarist Mick Ronson, bassist Trevor Bolder, and drummer Mick Woodmansey, experimented with sound and themes of light and dark, pushing the boundaries of music that at once is brave, self-aware, and teetering on the edge of chaos. Filled with Bowie classics such as "Five Years", "Moonage Daydream", "Starman", fan favorite "Suffragette City" and 7 more, "The Rise and Fall Of Ziggy Stardust and the Spiders From Mars" is a trip and a half. As is his way, Rochmon will have a few surprises in store!
Rochmon Record Club Listening Parties begin at 7 pm with a live audio & video presentation by Chuck Vosganian aka "Rochmon". A Rochmon Record Club Listening Party is meant to inform and deepen our understanding of the history of the individual performers, the songs, and the stories that went into the making of this iconic album.
The Linda's Bar will be open for snacks and drinks. Tickets are available online at thelinda.org. The Rochmon Record Club is held on the 3rd Tuesday of the month at Caffe' Lena (caffelena.org) in Saratoga Springs, the 3rd Thursday of the month at The Linda, WAMC's Performing Arts Studio in Albany, and the last Wednesday of the Month at The Park Theater (parktheatergf.com) in Glens Falls. Programming varies by location, please check websites for tickets, show dates, and times or go to Rochmon.com for more information.