"Rock the Fall" with E.R.I.E. and Sydney Worthley – Sun Sep 24th, 2023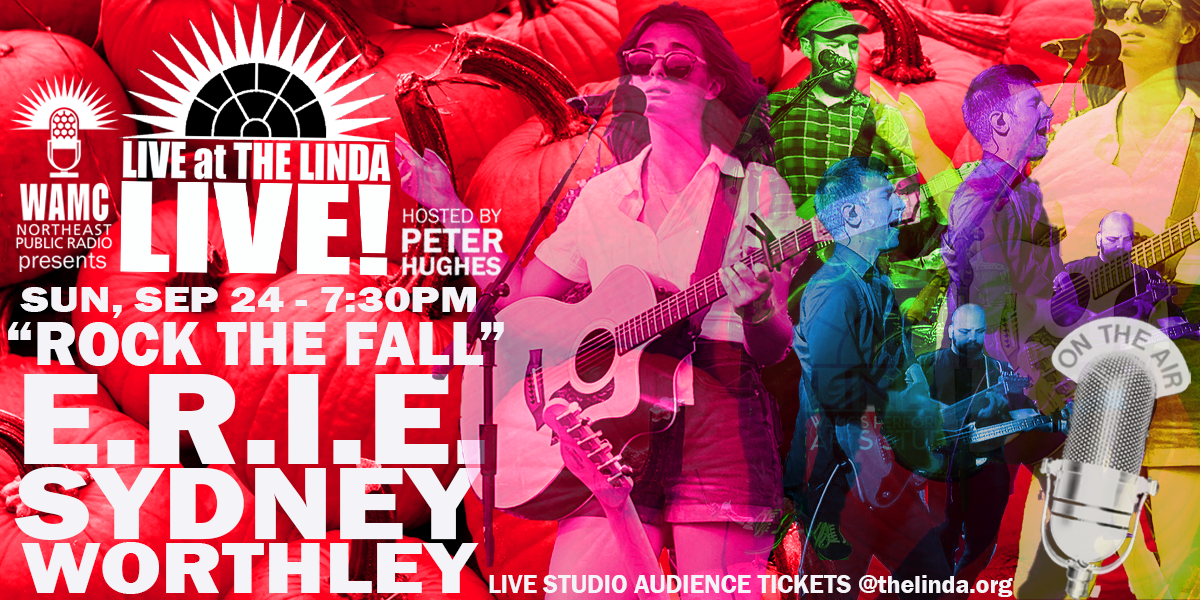 Time: 7:30pm-
Location: 339 Central Avenue Albany, NY 12206 (map)
WAMC's LIVE AT THE LINDA LIVE hosted by Peter Hughes broadcasts live on WAMC – Northeast Public Radio from our performing arts studio – "The Linda." You can be in the live studio audience for the outstanding show we're calling "Rock the Fall" with special guests E.R.I.E. and Sydney Worthley.
E.R.I.E.
For a band that was dreamt up in a hospital bed, indie-rock quartet E.R.I.E. certainly has a lot of life in them. After emergency heart surgery in the Fall of 2018, TJ Foster spent the following year writing and recording Don't Wanna Live, Don't Wanna Die in an attempt to not only reflect on the harrowing ordeals that brought him to that hospital room, but also to get back to his roots as a songwriter.
And while that March 2020 debut effectively highlighted a greatly personal, existential struggle with both mental and physical health, second LP Suburban Mayhem arrives with grander scope and vision. The album, released April 7th via Mint 400 Records, turns its focus externally, commenting vividly on the outside forces burrowing into our brains on a daily basis. It's a resplendent examination of the world around us, rife with equal parts cynicism, wit and hope. Featuring pitch-perfect collaborations with Brooklyn-based dream-pop trio ALMA, and fellow Albany, NY area songwriter Sydney Worthley, the record showcases a band not only finding their footing, but settling into a signature sound.
The four members of E.R.I.E. – guitarist Matt Delgado, drummer Chad Flewwelling and bassist Levi Jennes, alongside Foster – spent most of 2022 self-recording their sophomore full-length, yielding 12 nostalgia-tinged songs tailormade for turning the dial to 11. Suburban Mayhem further lends credence to the frequent comparisons to The Gaslight Anthem, Frank Turner and The Get Up Kids that the band has garnered, with "crunching guitars, catchy choruses and a down-to-earth, working-class vibe that recalls modern heartland punk rock…" (Daily Gazette).
​
All the while, E.R.I.E. has solidified themselves as one of the most reliable and entertaining live acts in the Capital Region's vibrant music scene. With every performance brimming with energy, vulnerability and appreciation, the band is "a class act with lots of passion and a great chemistry, making them very easy to cheer for…" (Nippertown). Recently, the band was voted "Favorite Alt/Indie Artist" at the 2023 Listen Up! Awards, and is currently nominated for "Best Rock/Pop Artist" at the 2023 Eddie's. Let the mayhem commence.
Sydney Worthley
…is a singer-songwriter at heart but when she steps on stage all bets are off. Each song starts in a corner of a room, pulling inspiration from Phoebe Bridgers and Taylor Swift and ends on a stage, piecing alt-rock tunes from her 2020 EP with unreleased personal ballads. At 17 years old, Worthley released "Rose Colored Glasses" amongst an unforeseen pandemic. Coming of age, long lost connections, and learning from haunting mistakes are all themes of her 2020 project. Songwriting has always been a cathartic experience for Sydney and that has remained unwavering.
While in isolation, the singer/songwriter had time to overthink and agonize over unresolved plans and lack of creativity. The result? A slow-forming upcoming project. Starting in November of 2022, Sydney Worthley put out her lead single begging the question "How Soon Is Now?". This song deals with heartache, the aftermath of changing who you are to fit someone else's needs, losing all feeling, and grieving for a person who is still alive. The desolated lyrics are contrasted with an 80s synth pop production style similar to Maggie Rogers or The 1975. Worthley invites you to take a look into her mind filled with disco balls, dreamy synths, and glittery tears. When all the dust– or glitter– settles, it'll leave you to wonder how soon is now?
Mere months after the release of "How Soon Is Now?", Worthley releases her most honest song yet, "Heart Shaped Mess". It seems that her 2023 resolution is to break down walls and introduce a more vulnerable version of herself. Visuals of burning down the past, trying to clean a stained version of herself, and a first date at the mall. The song grabs your attention with striking detail and an easy hook that will be hard to forget– almost mimicking the repetitive line, "how can I forgive you, when I can't even forget you?" Throughout this track, Worthley expresses numbness, feminine rage, guilt, and every emotion that comes with the territory of heartbreak. "Heart Shaped Mess" encapsulates sad girl autumn…or winter.
This year, Worthley is setting goals to release several new singles in anticipation for an unannounced project. Prepare yourself for topics of growing pains, raising your standards, speculating about the one that got away, imposter syndrome, and so much more. Sydney Worthley is always allowing herself to grow and evolve, no matter how daunting it may be.