Soft Machine – Thu Oct 12th, 2023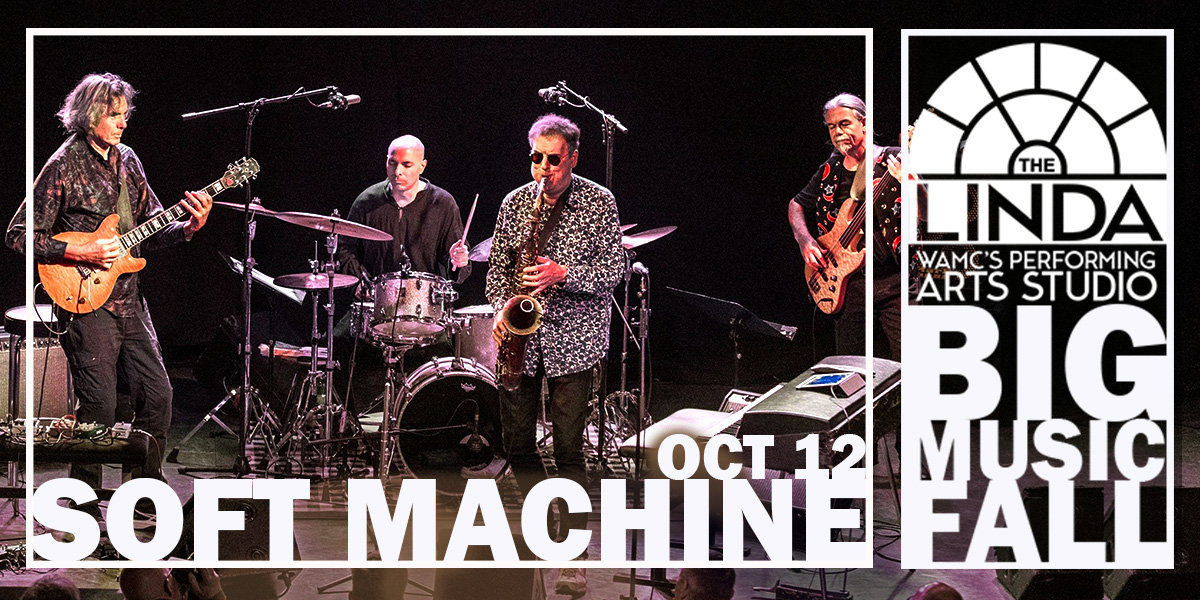 Time: 8:00pm-
Location: 339 Central Avenue Albany, NY 12206 (map)
SOFT MACHINE
JOHN ETHERIDGE guitar
THEO TRAVIS flute, sax, electric piano
FRED BAKER bass guitar
ASAF SIRKIS drums
Since their arrival on the music scene in the first wave of 1960s psychedelia, the name Soft Machine has become synonymous with musical experimentation, instrumental virtuosity, and inspired creativity all animated by a truly adventurous, progressive spirit. Although the personnel may have changed over the years, the commitment of those playing in Soft Machine today has remained consistent.
Some of the very brightest stars in the British jazz firmament have served in the ranks of this revered musical institution. Robert Wyatt, Mike Ratledge, Elton Dean, Hugh Hopper, Karl Jenkins, John Marshall, Roy Babbington, Allan Holdsworth, John Etheridge, Theo Travis, Kevin Ayers, Daevid Allen, Andy Summers, Jack Bruce, Gary Husband, and many others, have all focussed their own unique musicality to help shape the band's sound and personality.
Just like those earlier configurations, since they began recording and working live in 2004 as Soft Machine Legacy and the arrival of Theo Travis in 2006, the current lineup continues to defy easy categorization For Theo Travis, there's a rich combination of elements that combine to form what he believes to be Soft Machine's appeal. "I like the freedom, I like the variety of colors, the band improvisation. The fact that it has such a strong catalog of music going back over 50 years from which we dip into and play. With a lot of jazz stuff, you do it and people come up and say 'good gig' or whatever, but it's not like it means something in the same way as a band that has history and a cultural significance in the way that Soft Machine has. For me, it's a suitable combination of rock, jazz, improv, melody, risk-taking, textures, and experimental looping. It's pretty much all the things I like to play in."
Their latest album, Other Doors, sees them move seamlessly between hardcore improvisation, pop-tinged ebullience, muscular rock, and visceral jazz along with shimmering electronica and ambient overtones. The album also signifies another change within the Softs' roster, marking the first recording to feature new bassist Fred Baker, who had guested with the band on occasion dating back to 2008 but actually took over permanent live duties from Roy Babbington in 2021. Baker, a superb musician with connections to the whole of the extended Canterbury family tree that includes a long-established duo with Phil Miller and the band In Cahoots, has enjoyed touring with Soft Machine. "We recently played a large theatre in Istanbul and it was sold out. There were lots of young people and they were coming up after the gig wanting things signed which was fantastic." Alongside the new compositions which Baker enjoys, is Soft Machine's impressive back catalogue which is featured through their live shows. Giving people an opportunity to hear these compositions in a live setting is important, he believes. "My big thing with all this music is I see it like in a way that people used to look at, say classical music or early music. . . it's keeping the music alive and in the present, enabling people to revisit music that they might only have heard on record. I'm so glad to be part of it."
The release of Other Doors in 2023 is also the end of an era as the last studio session with the legendary John Marshall, who first joined the group in 1972 and at the age of 81 has decided to retire. Marshall's place has been taken by another good friend of the band, drummer and composer Asaf Sirkis. Lauded by Robert Wyatt who says of Sirkis, "there's nothing he can't do when he puts his mind to it," Asaf had previously played with Soft Machine when Marshall was unable to tour due to ill health. However, a fan of the group since he first heard Softs' 1975 album, Bundles, featuring Allan Holdsworth, the music of the group has been incredibly influential on his whole outlook and career. "It's very exciting for me especially because of my history. Obviously, I'm a relative latecomer compared to the others in Soft Machine but it's the music I grew up listening to and not just Soft Machine, but the music of all the various people that have played in the band over the years. So, it's really exciting, like the closing of a big, big circle for me."
Marshall's departure from recording and performing now leaves John Etheridge, who joined the group in 1975, as the last surviving member of the group with roots in Soft Machine's 1970s heyday. A highly respected player, Etheridge has performed in a variety of settings across his long and distinguished career but, he says Soft Machine feels like his spiritual home. "I definitely feel when I pick up the guitar and play under the banner of Soft Machine, I feel different to any of my other gigs. It's my favorite of all things I do by far. When I play with the Soft Machine, that is when I really feel like I'm contacting the player I want to be."
Whilst the primary focus is on new work and improvisation their ability to call up almost any part of the back catalogue is something all members relish. The latest album, Other Doors, includes Joy Of A Toy, which was first heard on 1968's debut, The Soft Machine. This much-loved number, written by Kevin Ayers, has been included in the band's recent live set for a while now. Putting it on the album seemed very natural, says Etheridge. "Of course, it's long before my time and it wasn't something I knew but it's a great piece. Fred Baker transcribed the original with Kevin Ayers' charming bass playing. it's got a sort of nice bounce about it. . . As a group, we are always, looking for variety, not for its own sake but to cover a broader territory. So, to be playing the second-ever Soft Machine single alongside brand-new compositions is something that's a really good approach. There's a degree of eccentricity about that's very important to Soft Machine."
This is Soft Machine – a living, breathing music that is as vital and relevant today as it ever was. Both long-time fans and new converts alike can take heart in the knowledge that the Soft Machine family tree — with its deep roots in the musical revolution of the '60s – continues to sprout healthy new limbs well into the new century, showing no signs of slowing. The legacy is in very good hands indeed. In 2018 Soft Machine released the album 'Hidden Details' which reached the Number 1 slot in the Amazon.co.uk Jazz Fusion chart. It also reached Number 1 for 8 weeks in the prestigious progressive radio chart from Philadelphia USA 'Gagliarchives' with Tom Gagliardi. Following the 50 date, 50th Anniversary World Tour, Soft Machine released a live album at the prestigious Los Angeles club the Baked Potato. – 'Live at the Baked Potato' was released in 2020 to great acclaim.