Takk House Haunted House – Sat Oct 31st, 2020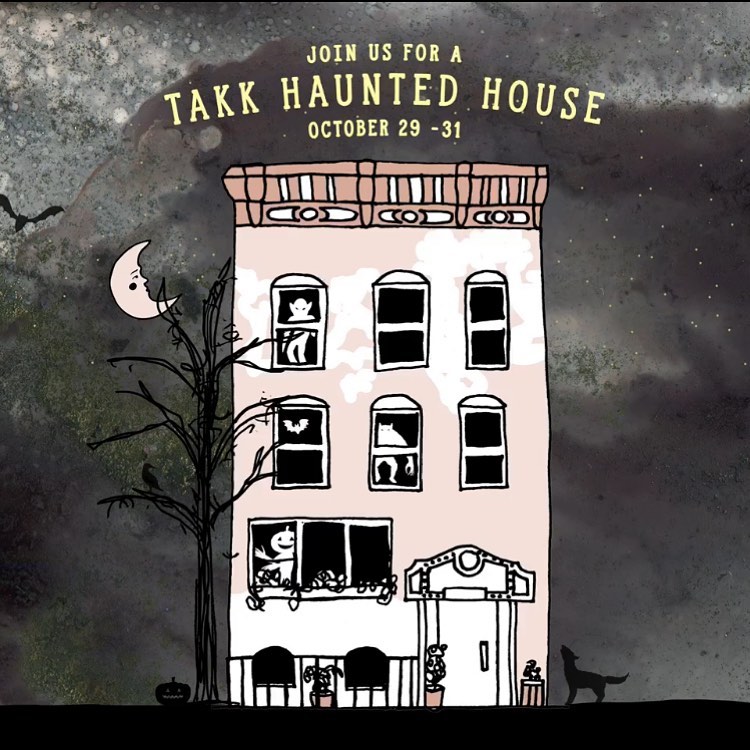 Time: -
Location: 55 3rd St. Troy, NY 12180 (map)
3-nights of fun!
Adventure through our haunted 1865 building meeting local murders and experience Troy history.
Takk Haunted House is a spooky 3-floor haunted tour through Troy, NY history. Follow your guide through a haunted mansion that will leave you with chills!
—-
BY PURCHASING A TICKET, YOU AGREE TO THE COVID-19 GUIDELINES BELOW.
* THERE ARE NO REFUNDS. *
YOU MAY REQUEST AN EXCHANGE OF DATE/TIME BY EMAILING
HELLO@TAKKHOUSE.COM
GENERAL ADMISSION E-TICKET
$15.00
GENERAL ADMISSION E-TICKET
TO GIVE YOU MORE FLEXIBILITY, OUR GENERAL ADMISSION E-TICKETS WILL BE SOLD IN TIME SLOTS. PLEASE ARRIVE 15 MINS PRIOR TO YOUR SELECTED TIME SLOT ON THE DATE YOU PURCHASED YOUR TICKET FOR. THIS WILL ALLOW TIME FOR TEMPERATURE CHECKS.
THESE TICKETS CAN BE PURCHASED ON-LINE THROUGH OUR WEBSITE USING ANY MAJOR CREDIT OR DEBIT CARD. JUST PICK THE DATE AND TIME YOU WANT TO ATTEND. ALL ON-LINE TICKETS ARE "PRINT-AT-HOME" DELIVERY. IT IS PREFERRED THAT YOU PRINT THEM OUT AND BRING THEM WITH YOU, HOWEVER, YOU CAN SHOW THEM ON A SMARTPHONE FOR SCANNING IF YOU CANNOT PRINT THEM. THESE TICKETS GUARANTEE YOU ENTRY TO TAKK HOUSE ON THE DATE AND TIME SLOT CHOSEN. (entrance during time slot chosen may vary depending on unforeseen circumstances) While every attempt to admit all patrons during their time slot is made, on very busy nights the wait time may be extended, as we do not want to turn away patrons who have traveled considerable distances to visit us.
—-
COVID-19 GUIDELINES AND INFORMATION BELOW:
Takk House will comply with the New York State Department of Health Interim Guidance for Low-Risk Outdoor Arts & Entertainment during the Covid-19 Public Health Emergency.
Haunted Houses – permitted consistent with Low-Risk Indoor Arts and Entertainment guidance and the following conditions:
—
– Reduced capacity to allow for social distancing (groups of 10 in each time slot)
***Face coverings required***
– Social distance maintained between individuals/parties
– Maintain Distancing Guidelines for Groups: The line and waiting areas into the attractions will have 6-foot markings and signage indicating 6-foot distances between groups.
– Printed signs will be posted at the entrance with reminders. We will also be doing temperature checks for each visitor. Customers should cancel if they are experiencing flu-like or COVID-like symptoms or are feeling ill. They will not be able to enter.
– Under the New York Forward plan, low-risk outdoor arts and entertainment activities include outdoor zoos, botanical gardens, nature parks, grounds of historic sites and cultural institutions, outdoor museums, and other similar institutions and activities. Detailed information is in the State Department of Health's Interim Guidance for Low-Risk Outdoor Arts & Entertainment During the Covid-19 Public Health Emergency.
– Our staff will be wearing approved PPE whenever necessary. We ask that you have a mask on and have your tickets ready for scanning when checking in.
– We will be performing health checks for all of our staff each night and will be providing appropriate PPE. We will have several hand sanitizing stations.
– You will not be able to enter the attraction without a mask.
OTHER IMPORTANT INFORMATION:
****The attraction requires climbing of staircases****
– Fog machines will be in use – if you or someone in your group suffers from asthma please be advised.
– Flashing lights and other light effects will be used in this haunted house and may potentially trigger seizures for people with photosensitive epilepsy. Discretion is advised.