Wild In The Trees Music & Skate Festival – Sun Oct 2nd, 2022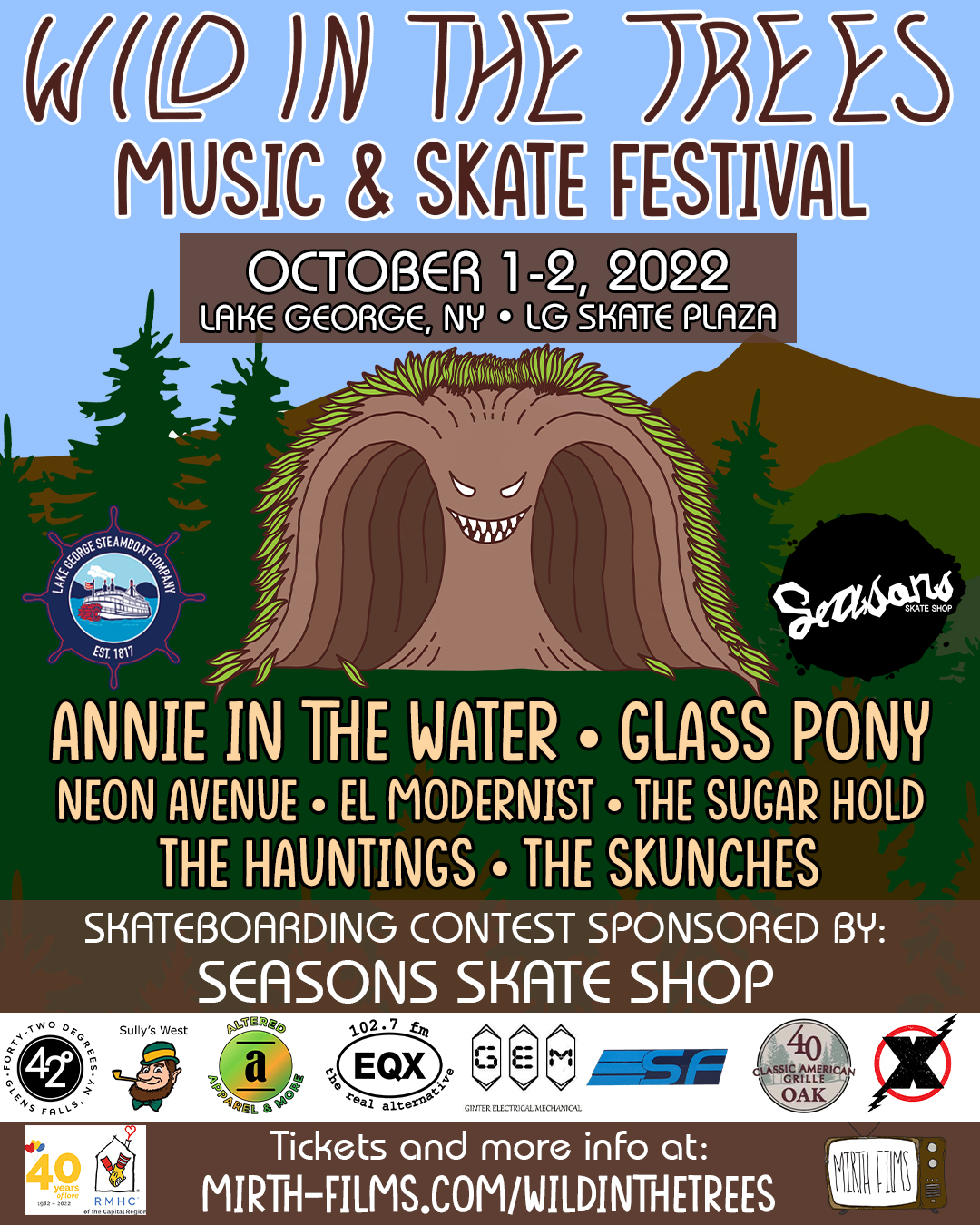 Time: 11:00am-7:00pm
Location: 17 W Brook Rd, Lake George, NY 12845 (map)
Mirth Films are thrilled to announce the first-ever Wild In The Trees Music & Skate Festival happening this October in Lake George, NY!
Wild In The Trees is a two-day music festival and skateboarding competition taking place on the grounds of the Lake George Skate Plaza in Lake George, NY on October 1st-2nd, 2022 from 11am-7pm. The event will feature multiple bands a day, beverages, food, vendors and more.
All ticket sales from Wild in the Trees will be donated to the Ronald McDonald House of the Capital Region. Purchase tickets for $20 by clicking here.
Purchase tickets: https://www.eventbrite.com/e/387911703347
More Information: Mirth-Films.com/WildInTheTrees
Our musical artists span over a range of genres including jam bands, punk rock and alternative rock just to name a few. This year's lineup features Annie in the Water, Glass Pony, Neon Avenue, El Modernist, The Sugar Hold, The Hauntings and The Skunches.
This year's skateboarding competition at the Lake George Skate Plaza is sponsored by Seasons Skate Shop and will feature a range of different events. All competitions include a spot-based jam session, best trick, high ollie, game of S.K.A.T.E and Skate -or- Dice. Click here to learn more or enter yourself into this year's skateboarding competition series.
We will have a wide variety of vendors at this year's festival including Adirondack Pub and Brewery, The Barnsider, The Stone Stash, ValJean, Heroes Hideout, Hypoluxo Skateboards, Jes Turco, Minescape 19, Hyper Saturation, Null Void, Upstate Coffee and Posterity Glass and Pop and Punk Co.
We want to give a big thanks to our sponsors: Lake George Steamboat Company, 42 Degrees, Ginter Electric, Sully's West, Altered Apparel, WEQX 102.7 Shady Business, 40 Oak, Radio Radio X and SF Janitorial!
Wild in the Trees is our way of paying homage to all efforts made to raise money to build the Lake George Skate Plaza while embracing all the incredible musical talent regionally and beyond. Back in 2008, local skateboarders in Lake George, NY brought to the town's attention the need to have a skate park. Through various town board meetings and the creation of a skateboarding committee put together by skaters, family members and community leaders, it was time to raise money to make the dream come true.
Throughout the early 2010's, local skateboarders held various fundraisers over the years including spaghetti dinners, coin drops, benefit concerts and much more. Between all the efforts locally along with a few grants, the skateboarders were able to raise nearly $100,000. By 2014, the park was designed with oversight from the local skaters. In 2015, ground was broken at the newly created Charles R. Wood Park and the dream was realized. The Lake George Skate Plaza attracts skateboarders from all across the northeast and beyond each year giving kids a safe place to skateboard without getting in trouble.
Mirth Films is a music news/entertainment outlet that specializes in live music coverage, original video content and podcasting. We are based out of New York State with news coverage ranging across the whole United States. Head over to Mirth-Films.com to stay up to date with all things live music and culture.